Anybody who has started a business will tell you they have a great product or service. But unless that product or service gets recognized by the target market, the startup isn't going to last long. This is why effective marketing for startups is absolutely crucial.
Whatever type of business you've started, you need to develop a marketing strategy to get your company off the ground, get customers, and of course sustain and grow the business. Marketing can make all the difference between turning your startup into a long-term, successful business, instead of a failed venture.
But where to start? And how to do it without investing endless resources? We're here to help with 5 tips to create a successful marketing strategy for your startup.
What is Marketing For Startups?
Marketing is simply about creating an identity for your business, building your brand, and having that brand shared and known by customers and potential customers. It's about being consistent, so customers know and understand your product or service, which leads to the ultimate goal – customer acquisition.
Contrary to popular perception, you don't have to build a huge marketing team in order to be successful in small business marketing and it doesn't have to cost a fortune. As an entrepreneur, you should make use of easy, quick and affordable solutions to get your small business marketing off the ground. Work hard and work smart.
Let's learn how to take your great product and build a brand around it without letting it become a drain on your resources.
1. Build a Consistent Brand
You need to establish your brand, and ensure its consistency; both in terms of the message you're conveying and how you are conveying it. This means outlining the right message for your product or service and using that to communicate with customers in a way that reinforces your brand's image in the consumer's head.
In order to establish your brand message, here are some questions you need to answer:
Who is your audience?
What kind of problems do your target customers face?
How does your product or service help solve those problems?
What separates you from your competitors?
Once you have your unique message, you can use it to create marketing materials to promote your brand. The next step is to ensure that you project a consistent brand identity. Your brand's identity is made of several design elements like your logo, brand colors, brand fonts, and design style – all of this needs to be uniform across all your marketing material. There are plenty of tools out there to help you streamline that process.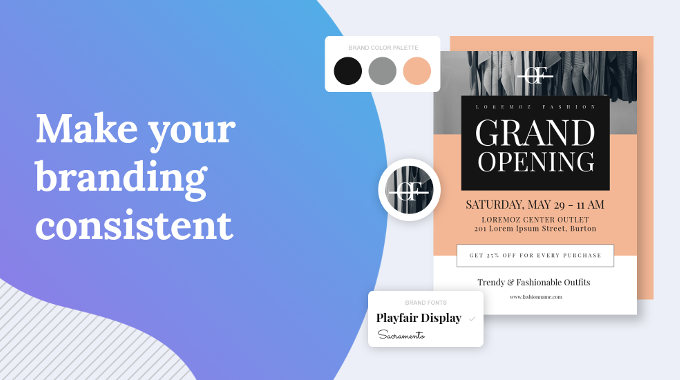 One such resource is PosterMyWall a free online graphic design software that gives you the tools to create professional designs with ease. It gives you thousands of professionally designed templates to choose from that you can tailor according to your brand by customizing font choices, colors, images and more. You can add your own logo to the designs by simply uploading it in the editor and adjusting the size and positioning as you need. You can even collaborate with team members on designs so that everyone is on the same page regarding how your marketing materials need to look and everyone is using the same branding.
2. Establish a Social Media Presence
About 42 percent of the world's population (3.2 billion people) are daily active social media users, according to Oberlo. Among other things, social media has now become a market where users gather to get information about products before they purchase them. In such a scenario, it is absolutely essential for your startup to establish a strong social media presence to capitalize on this traffic.
Choose the social media platforms that are best suited to your business – with the current popularity of multiple social media platforms, your audience is most likely scattered across different platforms and therefore you might need to direct your energies towards most of them. But consider your time to be an investment that will yield financial returns in the form of sales over time.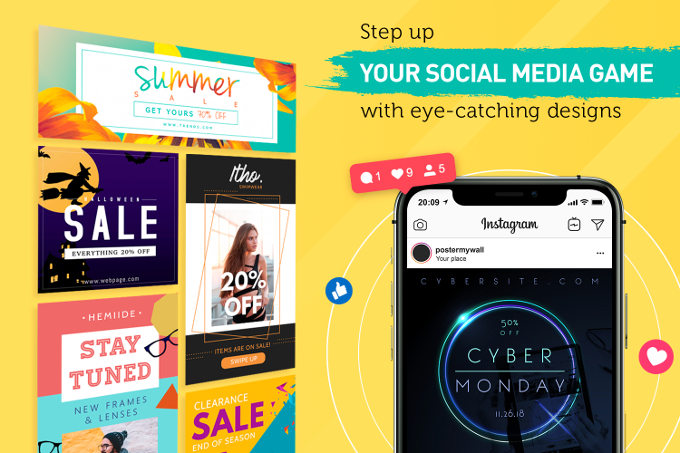 However, time should still be spent wisely – time is money, after all. To minimize the time spent on creating imagery for your posts, you should make use of ready-made social media templates on PosterMyWall. It allows you to create stunning visuals in all sizes in a matter of minutes.
Moreover, you should learn to repurpose your content across different platforms so you can get the most out of all the content you create. A post made for facebook should also be shared on Instagram and Twitter, for example. This not only helps to reinforce the same message repeatedly in a consumer's head without you spamming one platform with one message over and over again, but it also helps save precious time. You don't even have to create the same designs in different sizes from scratch – simply hit the free resize button in the editor to create multiple sizes at once.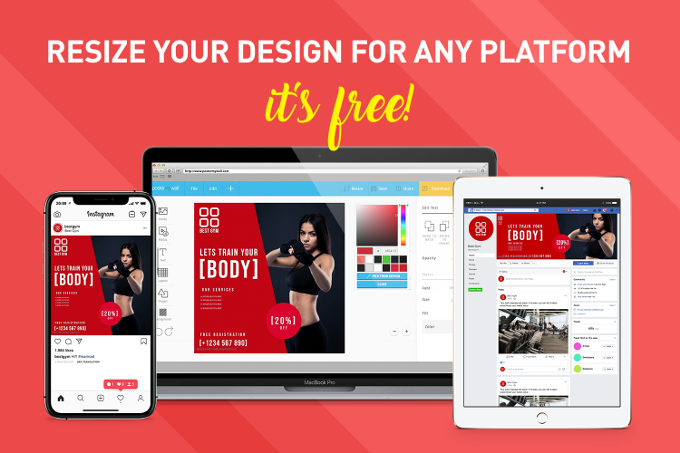 Once you get comfortable with the design aspect, you can streamline the process with PosterMyWall's direct publishing tool that lets you post to your Facebook and Twitter pages directly, as well as the scheduling tool that lets you schedule posts for later if you subscribe to Premium plans. This is not only a great time saver but also allows you to plan ahead and ensure your marketing is on dynamic.
3. Harness the Power of Video
Video continues to rise in popularity and can be effective to increase user engagement – posts with videos are likely to attract 3x more engagement than text-only posts. You should be capitalizing on this trend by using video on social media and your website as another tool in your arsenal, particularly if a video can help explain, promote or highlight your product.
But it isn't necessary for you to be a video-making expert (or have to hire a video-making expert). Platforms like PosterMyWall have thousands of pre-produced video templates and a huge stock video library that makes it easy for you to create great video content in a matter of minutes.
4. Use Advertising to Augment Your Efforts
A social media campaign can support efforts to get your business known, but a targeted advertising campaign can achieve greater output with less effort – and it can be done without a huge budget. Let's use Facebook ads as an example. Facebook has tools to walk you through an ad campaign. That includes selecting audience demographics, setting your budget, and where you want the ads to run. This means whatever you are spending on ads is focused on a very targeted audience and therefore has a higher chance of conversions.
To make your Facebook ads valuable, choose an objective that fits your business needs. The choices are "Awareness", "Consideration", and "Conversions". Here's what each entails:
Awareness: Reach the maximum number of people in your audience, or increase brand awareness by reaching people who will recall your ads.
Consideration: Increase traffic to your website, or drive people to the app store to download your app.
Conversion: drive traffic to your physical store, or purchase products from your online catalog.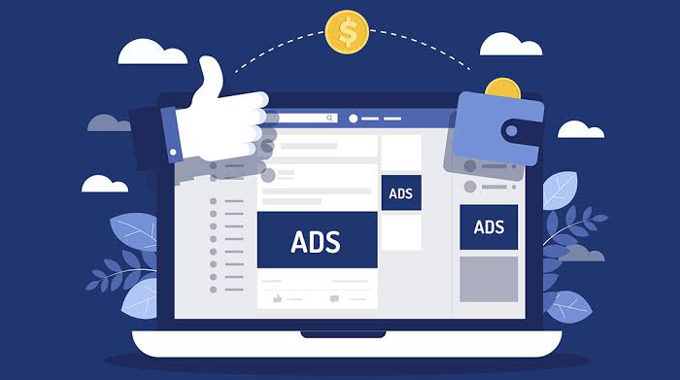 An ad campaign doesn't have to be on social media, either. Using Google AdWords, you can run a pay-per-click campaign using your business keywords, and drive traffic through to your website on a relatively small budget. Or, if you have a physical location, sign up for a free service like Google Places or Yahoo Local.
5. Do Something Off the Wall
Try something totally unique, which isn't a drain on your small budget, to get your business catch the audience's attention. This can be done providing gift vouchers or loyalty cards to returning customers.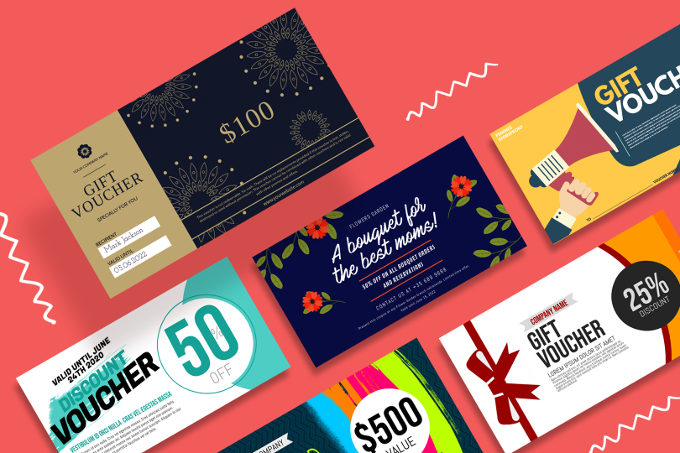 Gift vouchers open the doors to greater customer engagement and additional marketing opportunities. Your existing customers act as ambassadors of your brand while their friends and family who receive the vouchers hold the possibility of being converted. You can create stunning gift vouchers with ready-made templates on PosterMyWall in minutes to boost your brand awareness and customer engagement.
What else? How about printing stickers that promotes your product, points to your website, or directs people to the page on your site that's most popular? Reddit prides itself on the fact it has only spent $500 in marketing since its conception, all of it on stickers.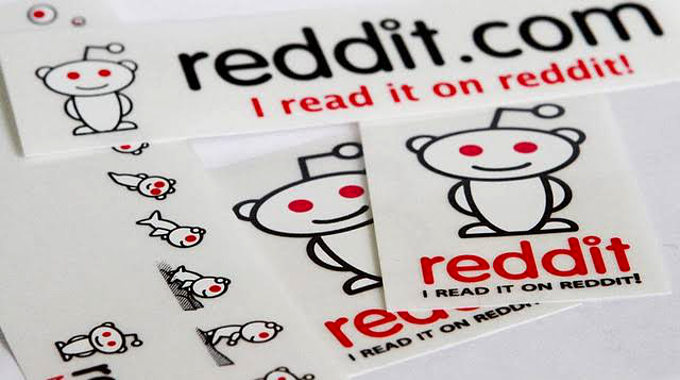 The Penny Hoarder bought the domain iGetFreeBeer.com, put it on a sticker, and then used the domain to redirect users to one of the most popular posts on their site. By using the redirect, they were able to measure the results of the campaign.
There are plenty of companies dedicated to producing stickers, like StickerMule or StickerYou. Or, with PosterMyWall you can design and download a high quality image on a transparent background and print it yourself.
Your Turn
Marketing for startups is one of the most important tasks when starting a new business. Customer acquisition is your number one goal, and that can only be done by getting your business known and picking a few tactics to promote it.
Now that you've read these helpful tips on creating a marketing strategy for your startup, it's time to get your strategy in place.
Create a brand message, get active on social media, run an advertising campaign, make a video and print some stickers. It's up to you to make it work!